Frankfurt am Main
Deutsche Bank Frankfurt am Main Branch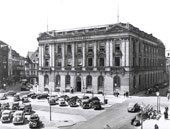 The branch was established through the takeover of Frankfurter Bankverein, Frankfurt am Main, which was founded in 1871. It was Deutsche Bank's third domestic branch. From 1947 to 1952 it served as headquarters of the Hessische Bank (successor bank). Since 1957, Frankfurt am Main has been the headquarters of Deutsche Bank AG.
The Frankfurt branch was the first branch of Deutsche Bank that was clearly focused on domestic business. Until shortly before the First World War, it remained Deutsche Bank's only branch in southwestern Germany.
Disconto-Gesellschaft, Berlin, took over the majority of the employees and the day-to-day business of Bankhaus M.A. von Rothschild & Söhne, Frankfurt am Main, founded in 1810, which went into liquidation after the death of the last Rothschild in Frankfurt. After the merger with Deutsche Bank on October 29, 1929, the Frankfurt branch of Disconto-Gesellschaft was merged with the Frankfurt branch of Deutsche Bank.
The bank building at Roßmarkt 18 was built in 1903/04 on behalf of Disconto-Gesellschaft. The new domicile was occupied at the beginning of December 1904. After the merger with Deutsche Bank, which had already been present in Frankfurt since 1886, the combined company used the spacious building as of 1929. In 1944 the building was severely damaged in an air raid and was reconstructed in 1947. After the Second World War, the Allies ordered the dismantling of the major German banks. As a result, successor institutions of Deutsche Bank were created so that Hessische Bank (Süddeutsche Bank from 1952 onwards) resided at Roßmarkt. In1957, Deutsche Bank was reestablished as a single institution, now headquartered in Frankfurt. Roßmarkt 18 now housed the head office and Frankfurt branch under one roof. During several phases, the headquarters expanded in the direction of Junghofstraße and Große Gallusstraße. In 1984 they ultimately moved into the twin towers at the Taunusanlage. The Frankfurt branch, however, remained at its traditional address at Roßmarkt 18.