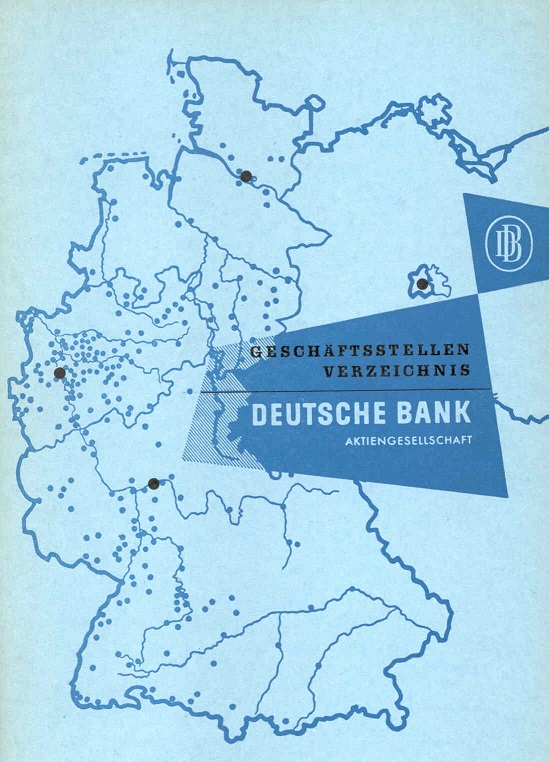 Click here for the history of the respective locations
When it was founded in 1870, Deutsche Bank had only one business office in Berlin. But it was just over a year later that the bank opened its first branch in Bremen in July 1871, to be followed at the beginning of 1872 by a second branch in Hamburg.

It was one and a half decades before Deutsche Bank opened its third domestic branch in Frankfurt am Main. The Frankfurt Branch focused its activities on financing the emerging industrial sector and the expanding trade segment. This field of activity was also in the foreground when a branch was opened in 1892 in Munich. It had the title "Bavarian Branch of Deutsche Bank". This was Deutsche Bank's first inroad into southern Germany. In Leipzig, Deutsche Bank was quick to use the spectacular collapse of Leipziger Bank, the former number one bank at the centre, to set up its fifth branch in Germany.
Up to 1914, more branches were opened in Darmstadt, Dresden, Nuremberg and Wiesbaden. But it was only in the following decade that Deutsche Bank evolved into a true branch bank, with a broad network of branches throughout Germany, by taking over large regional banks. Since these latter banks had already established a tightly knit branch network in their spheres of activity, the number of Deutsche Bank's domestic branches rose from 9 in 1914 to 186 in 1925. This was the strongest growth ever recorded inside a decade and was the basis for the bank's comprehensive representation in Germany.

Right from the start, Deutsche Bank intended to accomplish the task of financing international trade, as laid down by the founders, by opening foreign branches. In 1872, only two years after its foundation, Deutsche Bank opened a branch in Shanghai, China's principal foreign trade centre. At the same time, a branch was also opened in Yokohama, Japan.
Above all Deutsche Bank wanted a presence in London, the world's leading financial centre. "Deutsche Bank (Berlin) London Agency" opened its doors in March 1873, which for a long time the bank's only representation in Europe.
It was not until 1909 that the bank decided to open a branch in Constantinople (Istanbul). This was followed a year later by the branch in Brussels, and a further foreign branch was opened 1921 in Amsterdam.
Latin America was also one of Deutsche Bank's early areas of activity. In 1886 Banco Alemán Transatlántico was founded as a subsidiary of Deutsche Bank, Already in 1887, the first branch on the South American continent was opened in Buenos Aires. The new company got off to a promising start. Before the First World War, there were roughly 20 branches in Latin America and two more in Madrid and Barcelona.
After the foreign branches had been completely lost as a result of the Second World War, Deutsche Bank approached the foreign markets again, but cautiously to begin with. Representative offices were opened from the mid-1950s onwards, but the first full branch outside Germany did not come until 1976 in London, where the bank had already been represented 100 years before. This was followed quickly by more branches in Paris, Madrid, Milan and New York
From the late 1980s, with the acquisition of foreign banks and the formation of subsidiaries, there was strong growth in branch outlets abroad.
On the development of Deutsche Bank's branches
Nationwide branch networks were established in Italy, Spain and Poland and, while the number of branches in Germany decreased from the mid-1990s, it temporarily rose owing to several takeovers (Berliner Bank, norisbank, Postbank). In 2020 Deutsche Bank Group was represented in 1,920 locations worldwide.